Product Description
This is the Mastering Version of the Massive Passive with innovative repeatable, mechanically detented knobs of our own unique design. Range is clamped down for focus where mastering engineers live and breathe. Filters go higher and lower for solving problems in the mastering stage.
The Filters
There are 5 High Pass Passive Filters and bypass, plus 5 Low Pass Passive Filters with bypass. We made them extra steep. Why? So you can remove the garbage and not mess up your music. The way these filters interface with the parametric EQ bands simply sound beautiful. The mastering version filters go higher and lower compared to the regular Massive Passive filters.
High Pass Filters: OFF, 12, 16, 23, 30, 39 Hz
Low Pass Filters: OFF, 52kHz, 40kHz, 27kHz, 20kHz, 15 kHz
The Mastering Version filters are tuned specifically for mastering where they will be used to fix problems in the low and high extremes rather than to make effects in the mid-band. The slopes are all 18dB per octave on the mastering filters except for the highest 52kHz Low Pass filter which has a 30 dB/octave slope.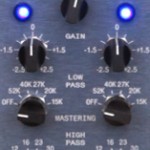 Parametric frequencies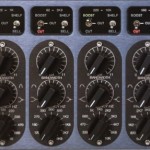 LOW – 22, 33, 47, 68, 100, 150, 220, 330, 470, 680, 1K
LM – 82, 120, 180, 270, 390, 560, 820, 1K2, 1K8, 2K7, 3K9
HM – 220, 330, 470, 680, 1K, 1K5, 2K2, 3K3, 4K7, 6K8, 10K
HI – 560, 820, 1K2, 1K8, 2K7, 3K9, 5K6, 8K2, 12K, 18K, 27K
Features & Specifications
FEATURES:
All-Passive tone sculpting circuitry
Unique Shelf curves use the "bandwidth" control
Overlapping and Interleaved Frequency choices
Every band switchable to shelf or bell
Vacuum tube make-up gain and line drivers
Parallel symmetrical topology
Premium components throughout
HP and LP Filters plus gain trims
Metal Manley mechanically detented GAIN and BANDWIDTH control knobs
SPECIFICATIONS:
Ins & Outs Balanced XLR & 1/4″ (accepts unbalanced)
Level +4 dBu nominal, internal switches for -10 operation
Bypass Switch bypasses EQ & tube circuits (not hardwire)
44 Frequencies (roughly 1/4 octave spacing)
Frequency Range: 22 Hz to 27 kHz
EQ Boost/Cut Range : Maximum 11dB boost or cut
Nominal Q range: 1.5 to 3 (uniquely active in shelf modes)
Frequency Response: ±2 dB: 8 Hz to 60 KHz
Maximum Output @ 1.5% THD +37 dBv; +26dBv @ 20 Hz
THD & Noise (1KHz @ +4 dBu): 0.06%
Noise Floor (referred to +4dBu): -85 dB (A Weight)
Dynamic Range: 120 dB
Tube Complement: 2 x 12AU7, 4 x 6414
Power Consumption (120/240VAC): 72 watts
Unit is factory set for 100V, 120V or 220-240VAC operation for original destination country's mains voltage.
Operating Mains Voltage changeable with power transformer changeover switch and fuse value change.
Mains Voltage Frequency: 50~ 60Hz
Size (3U): 19″ x 5.25″ x 10″
Weight: Unit 21 lbs. Shipping Weight: 27 lbs.